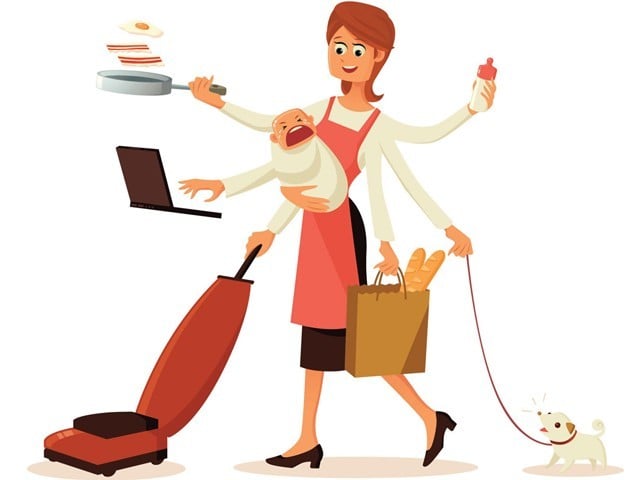 "So do you work or are you just a housewife?"
I remember being asked this question many times by people I was meeting for the first time. I also remember asking other women the same insensitive question, simply because I too, like so many of us, had been conditioned to only value work that gets remuneration in return.
Looking back, the years during which I took a hiatus from work as a journalist, because I was looking after a home and my family, were the years I perhaps worked the hardest. Even physically.
Imagine for a moment that the women all around us – the mothers, the wives, the daughters and daughters-in-law, the sisters and the sisters-in-law – demanded they be paid for the care and services they provide to their families. Imagine what their bank statement would look like at the end of the year!
Let's look at the numbers. Around the world, women spend two to 10 times more time on unpaid care work and domestic work than men – work that is not often counted in labour statistics. Countries have valued unpaid care work between 15% and 39% of national GDP. Data shows that women often have a higher total work burden than men when paid and unpaid work is combined.
On March 7, 2018, Data2X launched a new report –"Invisible No More? A Methodology and Policy Review of How Time Use Surveys Measure Unpaid Work" –  with 18 case studies of countries that have started harnessing time use (TU) surveys to measure unpaid work and generate policy change regarding many issues relevant to social development. This is, in turn, making the world look at the tangible value of unpaid care and household work.
The report defines unpaid care and household work as work done by people to take care of their households and others – everyday unsung chores like cooking, cleaning, caring for children, the ill, and the elderly, and many other important tasks.
So many women among us are super women, literally. They do the jobs of cooks, cleaners, drivers, nurses, tuition teachers, psychological counsellors. They manage homes, finances and relationships. Any study of geriatrics shows that it is mostly, if not always, daughters who can be seen serving old parents and even parents-in-law.
TU surveys are important tools to understand where we, as members of the society, spend our most valuable asset – time. TU surveys, as the aforementioned report states, are quantitative summaries of how people spend their time over a specific period and how much time is spent doing each activity. These surveys help collect data that can be used to improve economic and social policies and have been used to advocate for policies that reduce the care burden, including expanding care for preschool children, elderly people, and people with disabilities. They inform and promote child protection policies by highlighting child labour and promoting broader child welfare systems. They help countries better value the contribution of unpaid care work to an economy, relative to GDP. Once we know who is spending time doing what in a society, countries can drive public campaigns to promote shared responsibilities in the home.
Today, we are celebrating International Women's Day. And these issues can no longer be avoided. In rural areas, the load of carrying water still disproportionately falls on the women of the world because men, traditionally, do work that gets financial support for the family. But imagine if the women in rural Pakistan started charging for carrying the water back home. After all, this disparity does not only cost women time but also energy, and caloric requirements of water-fetchers increase – a requirement which is often not met for women. This is why now emphasis is being placed on highlighting the importance of men sharing the load of household chores with their women.
But what happens practically? The lion's share of the food is given to the man because, hey, he is the one who earns. Managing a home, giving birth to children and then feeding them – it is a lot of unsung heroic work – one that needs to be appreciated. It's high time.
As the Data2X report mentions, it is encouraging to see that slowly but surely, measuring reliably and comprehensively the unpaid household and care work traditionally performed by women has risen in prominence as a major challenge for official statistics.
Last year, in an encouraging initiative, the government of Sindh stood poised to adopt a policy for home-based workers (HBWs), making it the first province in the country to implement such a policy. Nonetheless, the fact remains that the list of home-based workers generally does not include the work women do at home.
Data2X's new report mentions that in 2017, India's Ministry of Labour and Employment's Maternity Benefit (Amendment) Act recognising women's time spent in care work, went into effect. Such policies are needed in all developing countries.
The time has come that not just men, but also women, start recognising the immense contribution of women in the survival of a family and a society. Every woman works, even though she may not get paid for it. So let's not dismiss their contribution, for they are the axis around which a society revolves.
Do you think women should be paid for household chores and care work?
 Yes, about time
 No, it's part of their responsibilities