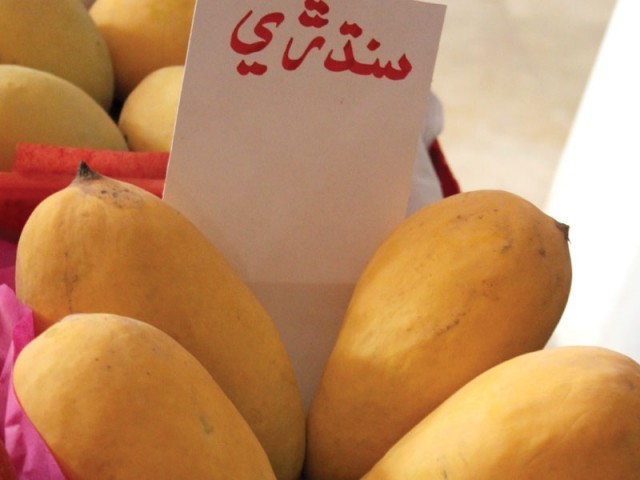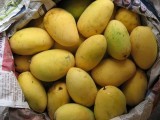 Yesterday, I tasted my first mango of the season. It was like falling in love all over again. I was sitting on an elaborate dastarkhwan on a 10th floor apartment's spacious balcony in inner Karachi.
"Saroli is the most amazing mango, is it not?" asked the elderly host.
I sheepishly begged to differ. I am a biased Sindhri lover.
Every year, the sweltering May heat that becomes unbearable as June comes closer, is a blessing for Mango lovers.
"Ramazan will be unbearably hot this year. But chalo, at least there will be mangoes in the fruit chaat."
This sentiment resonates inside so many of us.
And of all varieties of this fruit of paradise, there are mangoes and then there is the Sindhri.
Sindhris are a generous size; sweet but not sickeningly so, therefore you can easily have more than one – unlike its more sugary counterparts. Other mangoes may be sweeter but none beats the Sindhri for me. Or maybe, it is just the Sindh running through my veins that gives me my biased taste buds.
"How can you have mangoes with rice?"
I have heard that one a lot. I have been taught to eat the Sindhri in every way possible by my parents. Hard-core mango lovers have it with rice (a very Sindhi tradition) and with parathas, for breakfast, lunch and dinner, at teatime and even for sehri.
It doesn't have irritating fibres that get stuck between the teeth and allows itself to be eaten in so many forms; you can slice it, cube it or blend it. It is such a cooperative variety.
But then, can we really blame it for being so amiable?
It is from the valley of Mehran, and so the Sindhri is a reflection of the people that sow it and care for it, and pluck it off trees and keep it wrapped in hay shreds till the green becomes a vibrant yellow, bit by bit.
Sure, it has its shortcomings, like its people, and it's not perfect; too fattening, too addictive, a bit overly sensitive but very pluralistic, congenial and adjusting. That's what's beautiful about it; it maintains its own but mingles with other flavours too.
Lower Sindh is the largest mango-producing belt in the country. This year, estimations show that around 40% of the crop has been damaged because of heavy rains. Sindh's production is expected to go down to 0.55 million tons from 0.64 million tons. But hopefully, there will be enough Sindhris to go around.
The export season of Pakistan's mangoes starts from May 25. Experts expect that the country will earn $65 million at the end of the season. The Pakistan Fruit and Vegetable Exporters, Importers and Merchant Association (PFVA) have kept this season's mango export target at 175,000 tons. However, this year, the focus will be on quality rather than quantity after neighbouring India's mangoes were banned by EU-wide countries due to an incidence of non-European pests in India's export. Pakistan's largest export market in mangoes is Europe, where it exports about 24,000 mangoes annually.
Why are Pakistan's Sindhri mangoes so sweet?
"The hotter the summer, the sweeter the Sindhri," my father used to say, every time he returned home from orchards he caringly looked after.
Standing for hours at stretch in the sizzling 45 degrees plus heat of interior Sindh in summers had him many shades darker every time.
"You'll get sick, abba. The workers can do it! Why must you stand in that heat?" we'd say to him.

"Sons of the soil don't fear the heat. It makes the mangoes only sweeter," he'd say with a smile.
The real secret of the Sindhri is, and it is no surprise there, that it bears so much heat.
"Garmi garmi ko kaat deti hai. Aam apni zaat mein garam hai. Uss ko garmi hee meetha banaa sakti hai."

(Heat cuts through heat. The mango has an inherent heat-producing effect. Therefore, only heat can bring out its sweetness).
These words, which classical singing maestro Ustaad Naseer Saami said to me recently, have much wisdom in them.
Calcium carbide powder and other ripening agents used to ripen mangoes and other fruits are almost deceitful. They are harmful to human health and the sweetness tastes forced, almost like fake smiles. One must, therefore, wait patiently for the actual mango season to arrive.
This is true for not just the Sindhri but all mangoes of Pakistan. Just like its people.
The heat of difficulties eventually makes us more seasoned. Without having been through tough times, humans are unripe. Given time, may be one day Pakistanis will be the best in the world, just like the country's mangoes, because only the heat can bring out the best in the Sindhri.