Missing the sunny splendid Senegal. Nostalgia….for this beautiful slice of Africa
chaaidaani
See Senegal through these photographs before you read this travel blog:
Of eleven splendid suns
The crashing waves, the birds swimming in the air, humans scurrying around on their daily routines, everybody in their orbits. Tranquil. That's Senegal
By Farahnaz Zahidi Moazzam
Pakistan has no embassy of Senegal. The visa processing takes months, if at all one gets it, that is. It's an 11-hour flight from Dubai, that's how far it is. And I must, must go there for a really important conference. Only, till the last day, I don't know whether I will get the visa or not. Net search has told me that Senegal is sunny, beachy and hardcore Africa.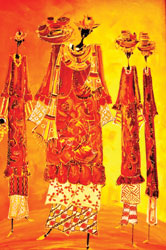 On the day I have to fly out, November 25, 2011, I reach Karachi airport with a fuzzy mind owing to the lack of sleep and simply too much going on in life. After a 3-hour layover…
View original post 1,292 more words